Looking for good value in a safe, reliable car? The 2014 Subaru Legacy provides the lowest total cost of ownership in one of the safest cars from a reliable manufacturer.
How did I determine this? Here's how to do it:
Safety First!:
The website www.informedforlife.org is an independent organization created solely for the purpose of helping individuals select a car that may save lives in an accident. They combine IIHS and NHTSA data along with vehicle weight to determine the safest cars on the road. The safest vehicles for model-years 2011-2014 must meet the following criteria:
* Rated "Top Pick" by IIHS and "5-Star Overall" by NHTSA. The testing protocols used by these agencies complement each other and they must both agree the vehicle meets their highest standard.
* Each individual IIHS / NHTSA rating must be in the top quartile for frontal impact, side impact and rear impact. This filters out vehicles with poor individual crash modes.
* The size/weight-based projected driver fatality rate must be less than the rate for the average weight (3200 lb) passenger car. The relative weight of a vehicle compared with one it collides with in a head-on crash is a critical determinant of the forces the occupants are subjected to, however vehicle weight is ignored in the 5-Star system used by IIHS / NHTSA and must be evaluated separately.
Here is the list of 2011-2014 vehicles which meet the above criteria – they are the safest 3% of vehicles available (click on picture to enlarge):
Reliability
Now that we have our list of safest cars, let's filter the list by manufacturer reliability. Here are the top 10 brands determined by Consumer Reports most recent (October 2013) annual reliability rankings:
CR Most Reliable
Subaru
GMC
Honda
Volvo
Infiniti
Mazda
Audi
Acura
Toyota
Lexus
Reviewing our list of safest vehicles for the above brands yields the following possible models:
2013 GMC Acadia (SUV)
2014 Acura MDX (SUV)
2011-14 Volvo XC60 (SUV)
2011-14 Honda Odyssey (Van)
2014 Mazda CX-5 (SUV)
2012-14 Volvo S60 (Car)
2013 Lexus ES350 (Car)
2013-14 Subaru Outback (Car)
2013-14 Subaru Legacy (Car)
2012-14 Honda Accord (Car)
Four of the above vehicles (Subaru Legacy, Subaru Outback, Honda Accord and Honda Odyssey) are also on Consumer Reports list of "Top 10 Cars Most Likely to Go 200,000 miles".
Value
Now we can evaluate these models for total cost of 5-year and 10-year ownership. For this I use the 'Car Cost Comparison Tool' Excel spreadsheet. This Excel spreadsheet uses an eight factor model of purchase price, depreciation, financing, fees and taxes, fuel costs, fuel economy, insurance, and maintenance/repairs. You can input your own driver, vehicle, financing and fuel costs to personalize your estimates and find the least expensive long-term vehicle option. Choosing the right vehicle will save you tens of thousands of dollars over the next few years.
For this exercise I'm evaluating new (2014) models. Here are screenshots of the analysis (click on picture to enlarge).
I used Edmunds.com to price the vehicles, choosing the most fuel-efficient model in a 'mid-level' package. The 2014 Subaru Legacy in 4-cylinder Premium Package will cost $36,225 (0.48 $/mile) to operate for the next 5 years, lowest of all these safe, reliable vehicles.
Here is your new car: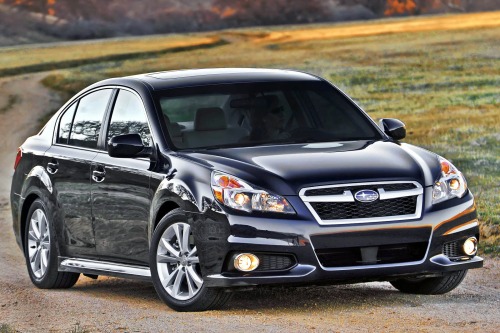 Obviously your individual options and financing play a key role. If a manufacturer offers 0% financing it can cut thousands off your cost. Use the spreadsheet to evaluate all offers and options, including new and used cars.
This car cost comparison excel spreadsheet is available on the Research Offers page.