The percentage of your money which should be invested in different asset classes is dependent upon two things:
Relative valuation level of each asset class; and
Your individual investment horizon.
The Asset Allocation Model below reflects these two parameters.  It is ideal for managing a 401k Plan or a brokerage account where an index-only investment portfolio is desired.  The Model is updated twice a year, in April and October.
Current Model for APRIL 2018 to OCTOBER 2018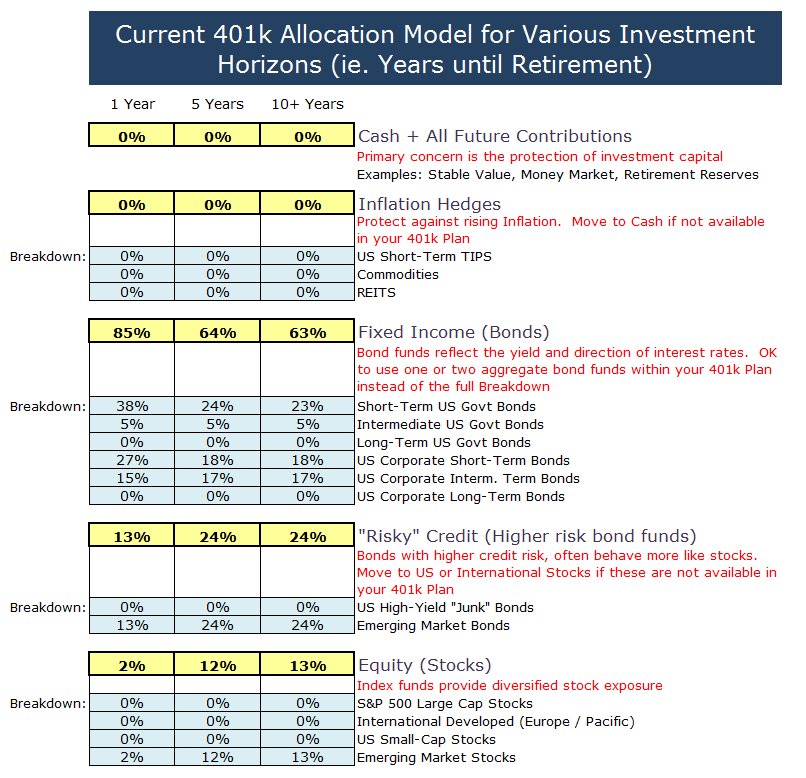 Model details:
The asset allocation model begins with long-term (10 year) projected annual returns for each asset class.  These returns are run thru a Kelly Formula model to optimize asset class selection.  The results are then adjusted to account for various investment horizons, such as an investor's length until retirement.
One study suggests that more than 91.5% of a portfolio's return is attributable to its mix of asset classes.  Individual stock selection and market timing accounted for less than 7% of a diversified portfolio's return.  William Bernstein says in his book The Four Pillars of Investing, that: "The ability to estimate the long-term future returns of the major asset classes is perhaps the most important investment skill that an individual can possess."