The American Homeownership Dream is officially dead. Long live the New Normal American Dream: Renting.
According to the latest quarterly homeownership data released by the Census Bureau, the percentage of Americans who have a house declined from 65.2% to 65.1%: the lowest since 1995.
Those wishing to brave the New Normal world will have to spend a lot for rent.
A record lot in fact: the median asking rent for US vacant housing units just hit an all time high of $735 per month.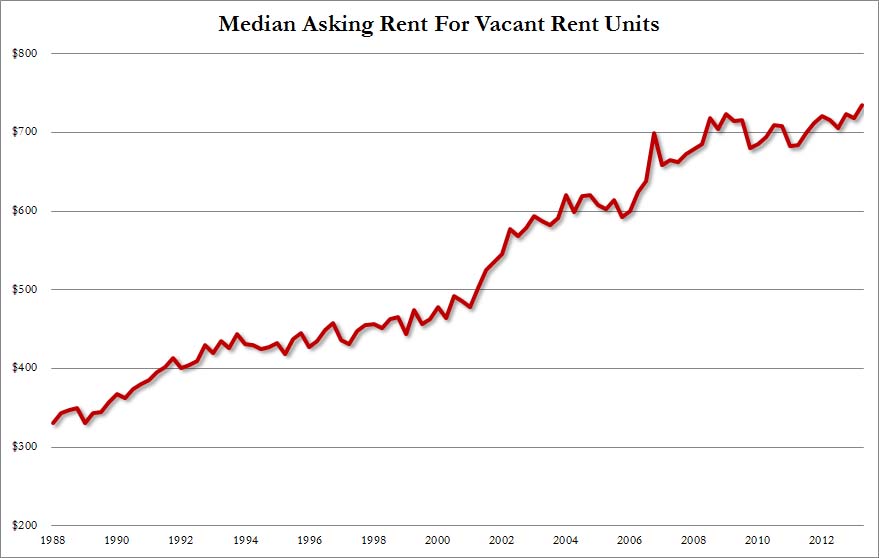 The pain is most acute for those renting in the Northeast, where the median rent soared by $65 to a record high of $961.
So rents are soaring.>>
What should you do as an investor?  Buy rental property that is cash-flow positive for income!
With my real estate rental software spreadsheet (available thru the Research Offers page), you can take charge of your rental properties:
-analyze one unit (ie. single-family residential) or multi-unit apartment buildings with ease;
-Work with any-size income property;
-Include up to three loans;
-Obtain the rates of return effortlessly.
You don't have to be a financial wizard, simply enter basic financial data into user-friendly forms, and the program will automatically calculate the formulas.
The spreadsheet is recommended for real estate investors who plan to buy and hold rental property.  It provides a deep level of analysis with first year and 10-year holding period considerations.
The spreadsheet gives novice investors an easy and affordable way to know whether a real estate rental investment income property will be profitable before they put their money in.
Click here to read the accompanying article: Real Estate Rental Analysis Excel Spreadsheet.