…and Oil in the water.
Purchased two Oil services stocks today, both which earn their keep primarily by servicing the oil drilling operations in the Gulf of Mexico.  They have been beaten down along with BP and more recently due to the moratorium on deepwater drilling in the Gulf.  One of them – Hornbeck Offshore Services (HOS) – led the group of firms who successfully overturned the moratorium last week.  HOS operates offshore support and logistics vessels and specialty services to the offshore oil and gas exploration and production industry primarily in the Gulf of Mexico.  The other – Geokinetics (GOK) – provides 2D and 3D seismic data processing and interpretation services to oil and natural gas firms in the Gulf and around the world.
This New York Times article has a good discussion of the Gulf moratorium and Hornbeck.  You'd have to believe that we'll never drill in the deep waters of the Gulf again to avoid these stocks.  I think it could go another way – we'll begin requiring a relief well to be drilled with every new deep water well (2 wells instead of one), which would mean even more work for these two oil services firms.
Both firms are selling near their March 2009 panic lows.  I bought HOS at $14.43 per share and GOK at $4.12 per share.  Each has a 3% weight in my portfolio.
Financials:
(I'll come back and further describe the valuations – I'm not at the right computer at the moment.  Suffice it to say that both GOK and HOS would have to more than triple from here to reach my calculated Intrinsic Value for them.).  One of them I recall has about 70% cash on hand.  Both have been able to grow Free Cash Flow very well over the last 10 years.  Below is a screenshot I saved of the spreadsheet showing Hornbeck's last 10 years of free cash flow (Owner Earnings).  This is the type of company I'm looking for – positive, growing free cash flow.  I put the phrase "Can you Predict the Future" above the chart to remind myself to pass on any company that doesn't look like I could make an educated guess about where it's going – and that's most companies.  I'd estimate that only about 1 in 20 companies I review have a chart that looks like this.
*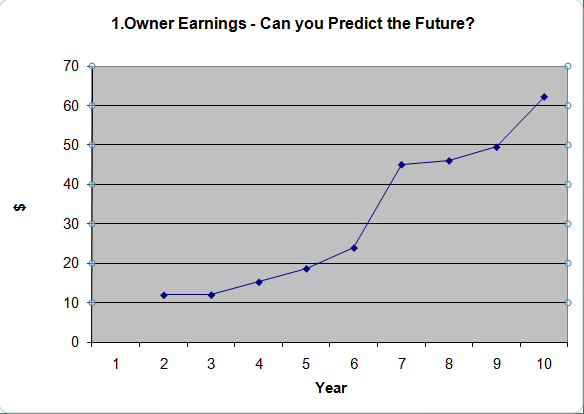 Most stocks display negative and inconsistent cash flows, and I simply avoid them.
Insider Buying:
Both HOS and GOK have had recent, significant insider buying.  Even better, these insiders have shown an ability in the past to purchase at very opportune times.
Technicals:
I'm now trying to use Demark Indicators to better time my entry into stock purchases.  Neither stock here is at a perfect buy point, but they're close enough and I don't want them to get away from me.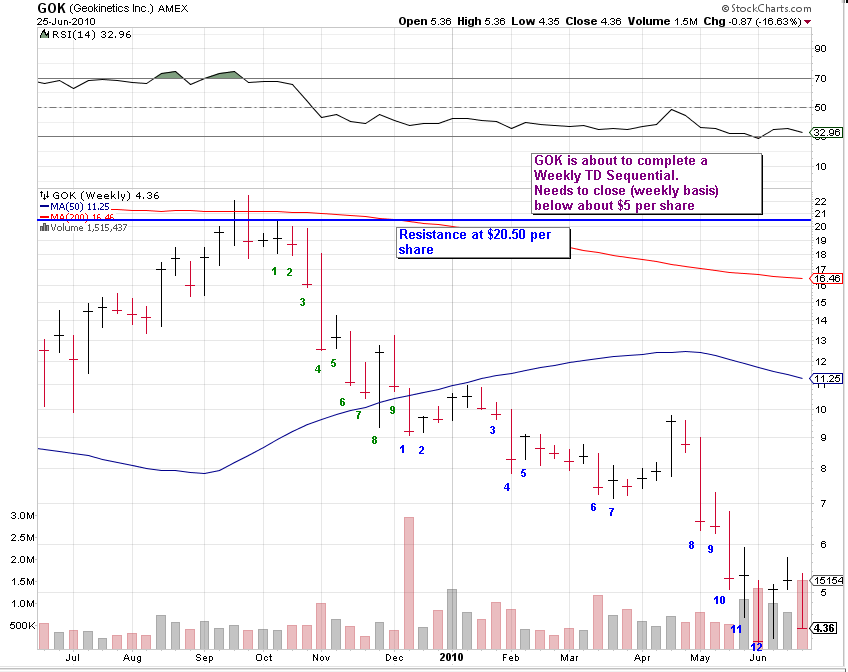 These are somewhat volatile small-cap stocks.  In a panic they could go lower.  GOK went as low as $2 per share in March 2009.  But within 1 to 2 years I believe they will be significantly higher.  Plus I'm buying with company insiders and I know what the stocks are intrinsically worth.   I'll wait until the market reflects that.
Rockefeller once explained the secret of success. "Get up early, work late – and strike oil."